Camilla`s new Bride collection "Songes" - dreams - is now available in the shop at
The Stockholm City Museum, Slussen, during the exhibition

"Stockholm Heart of Love"
(May 22-September 26 2010).

Welcome!
"SONGES" - "DREAMS"
Lace&Ice Design New Winter Collection 2009.
Beautiful laces from Paris!

Now available in Stockholm at Galleri Sorgenfri, Bondegatan 64
Ajas Lingerie, Sturegallerian
Halinkas Style, Krukmakargat.9
Camilla Ringquist, singer, composer and musician from Stockholm, Sweden, was one of the first female artists in Sweden to form her own label, TinyTiger Production 2002.
Camilla has released four albums with her own music;
- For Venus (2003)
-Love and Poetry (2005)
-Embrace of Green (2008)
-La Brodeuse (2010)
She has been compared with artists such as Joni Mitchell and Kate Bush and her music has got great international response. The albums have been released in both Europe and Japan. For more information, please visit www.camillaringquist.com.
Camilla started her own design of old fashioned, romantic jewellery Lace & Ice Design in 2006. Everything is handmade from lace with buttons and pearls and every piece of jewellery is unique.
The first collection is called Romantic Fever.
Click to enlarge
Camilla also makes jewellery for brides, Bride Sweets.
Click to enlarge
"Queen of Hearts" collection 2008





Foto Gabriel Söderbladh

"Belle de Nuit" collection 2008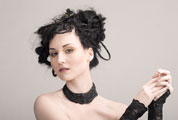 Foto Gabriel Söderbladh

"Arabesque" Spring/summercollection 2009






Contact
Lace & Ice Design
Camilla Ringquist
Svartensgatan 6
116 20 Stockholm
Sweden
E-mail: info@laceandice.com

Shops in Stockholm selling Lace & Ice Design
Afrodites Apotek, Katarina Bangata 17 (strumpeband)
Ajas Exclusive Lingerie - Sturegallerian
Galleri Sorgenfri, Bondegatan 64
Halinkas Style, Krukmakargatan 9
Stockholms Stadsmuseum, Ryssgården Slussen
som Sara, Österlånggatan 37, Gamla Stan